Billing & Payment Info.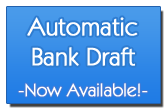 The Clearfield Municipal Authority's newest billing format gives our customers more detailed information.  Please take a moment to review this example, as it will help explain your quarterly bill.
A drop off payment slot is available at our office 24/7.
PLEASE BRING YOUR ENTIRE BILL WHEN PAYING IN PERSON.
1. Account Number
This number identifies your account.  Use it for all inquiries regarding your account, and always include it on your check or money order when making a payment.
 
2. Gallons Used
This area provides the quantity of water you are being billed for on this statement.  The quantity is billed in thousands of gallons.
 
3. Billing Period
This identifies the reading dates for your account, which gives the CMA the gallons used for this period.
 
 
 
 
 
4. Amount Due By Due Date
This amount reflects a discount of 2% given for early payment.
 
5. Due Date – Face Amount
The discount period is 15 days.  The payment must be in the CMA office on or before this date.  The amount shown is payable after the date shown.
 
6. Comment Field
This area will house various comments concerning CMA operations INCLUDING HOW LONG YOU HAVE TO PAY IN FULL.
 
 
 
 
 
7. Payment Stub
This area summarizes important information about your account. 

Return this portion of your bill when mailing your payment

, and keep the lower portion for your records.